Oriental Cuisine 東方饌 黔天下
No. 27, Lane 46, Dazhi Street, Zhongshan District, Taipei, Taiwan
台北市中山區大直街46巷27號
(02) 8509-2310
Price: $$
Recommendation:
4 Stars
Under the great Chinese food categories, there lie eight different major cuisines, including the slightly sweet Shanghainese and notoriously spicy Szechwanese. Most of us are familiar with those; however, little is known (at least for me) about Guizhou food 貴州菜, which emphasizes the mixed taste of sour and spicy and prides itself as the 9th category of Chinese food. Since Vickie and I were craving for some serious spicy food, we decided to be adventurous and went to the highly acclaimed Guizhou restaurant, Oriental Cuisine 東方饌 黔天下.
Before opening Oriental Cuisine 東方饌, Chef Yeh was the executive chef of a celebrated Italian restaurant for more than 15 years. In the spring of 2008, his entrepreneurial dream prompted him to journey to China's Guizhou Province to master and bring back the mysterious Guizhou cuisine to Taiwan. Chef Yeh was both a great cook and an awesome server. For every dish he brought out, he carefully explained the origin and ingredients. While it was nice to learn about the food, it was really painful listening to him because the food looked incredibly delicious and I was literally drooling all over the place and hoping he would finish soon!
Oriental Cuisine 東方饌 黔天下
Though Oriental Cuisine is often featured in big name magazines and media, there were still quite a few empty tables in the restaurant.
traditional Guizhou decorations
Red Oil Green Bean Liangfen 紅油綠豆涼粉
Green Bean Jello with Chili Oil
To begin our meal, we ordered two small traditional dishes. I especially enjoyed the Rice Noodle with Hot and Sour Chili Oil 紅油酸辣米線. The perfect balance between hot and sour as well as the manyfold flavors of ethnic spices made it a delightful appetizer.
Don't be fooled by the amount of hot peppers. They weren't that spicy at all!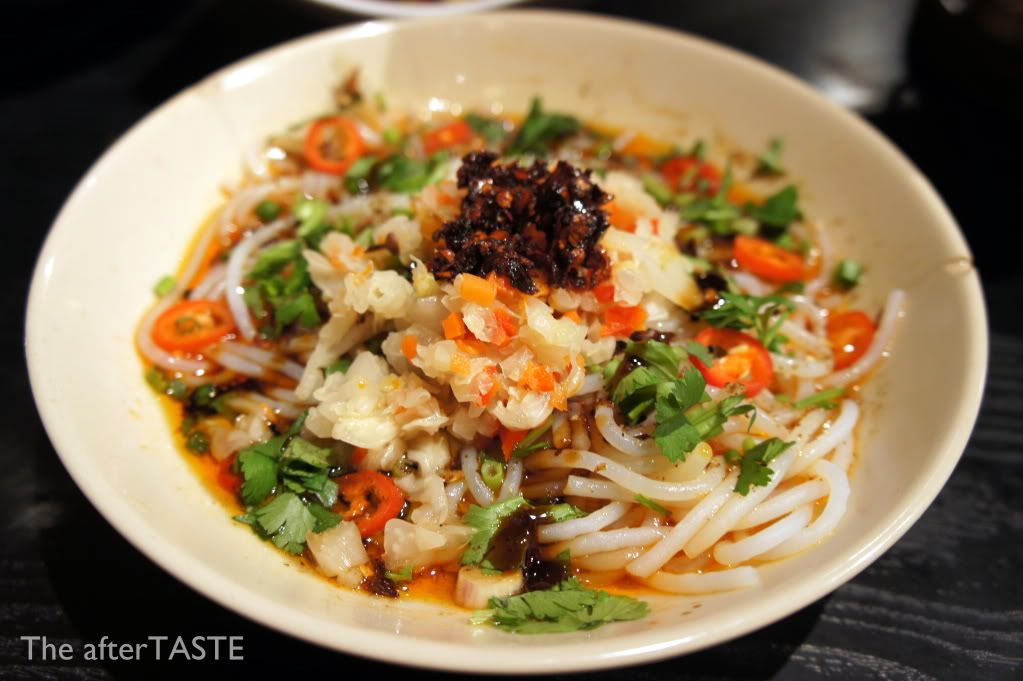 Rice Noodle with Hot and Sour Chili Oil 紅油酸辣米線
While I savored the tasty and tender beef briskets, the eggplants in the casserole were simply amazing. The thick and heavy sauce justly complemented the soft textured eggplant. I devoured the pot in no time and left almost none for my friend...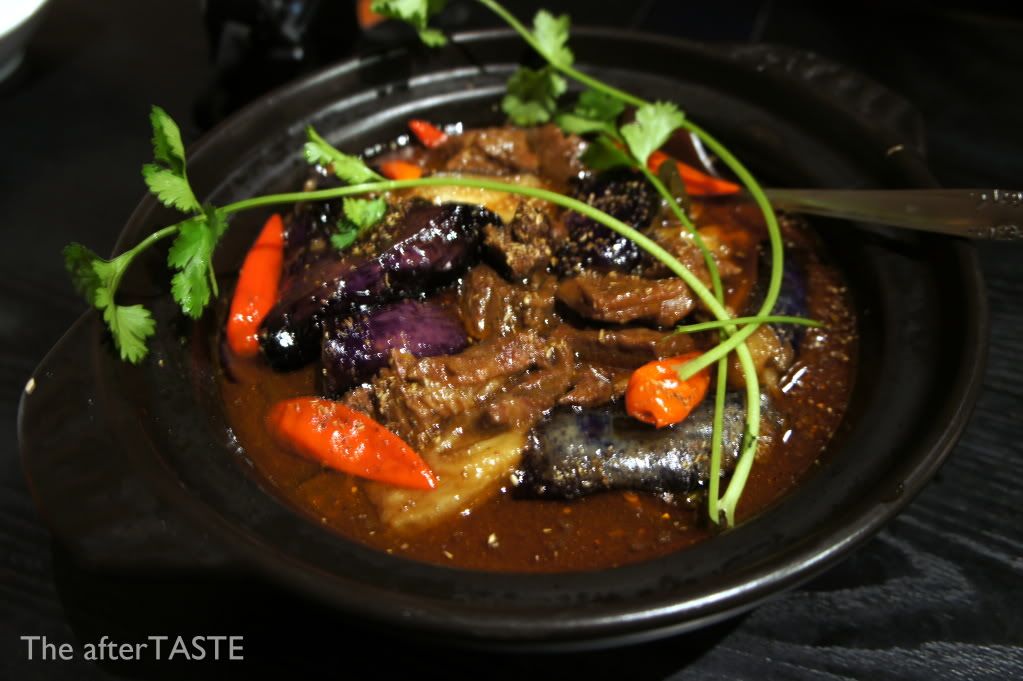 Hot Pepper & Eggplant Beef Casserole 泡椒香茄筋肉煲
Miao Pan Fried Chicken 苗寨干鍋雞
A traditional delicacy, Miao Pan Fried Chicken 苗寨干鍋雞 is typically only served when the Miao people worship deities or celebrate weddings. The juicy and tender chicken absorbed the complex flavors of different chilies and spices and was surrounded by slices of potatoes. The slightly fried potatoes tasted like thick baked chips. It was a very interesting dish and also a Chef Yeh's signature!
Miao Pan Fried Chicken 苗寨干鍋雞
Each of the colorful Guizhou Wu Xing ("Five Elements") Dumpling has a different meaning and represents the "five elements" 五行: gold, wood, water, fire, and earth! Not only were the dumplings incredibly delicious, they were also fun and playful because every piece was made with different ingredients.
Gold 金
: The
yellow
dumpling wrappers were dyed with the bright color of carrots and folded with corn and other vegetable fillings.
Wood 木
: Using fresh Taiwanese spinach and seaweed, the
green
dumplings were glowing like a beautiful jade. Chef Yeh mixed the fillings with pickled cabbages, which were naturally fermented following traditional Guizhou techniques.
Water 水
: The
white
dumplings were pretty standard and tasted like regular jiaozi. The chef should probably dye the wrappers blue, but what natural ingredients are blue?!
Fire 火
: The
red
skin of the fire dumplings were created with hungqu 紅麴 (red fermentation starter), and the filling contained a red shrimp. It was my favorite of all!
Earth 土
: The
dark brown
earth dumplings, with many precious Chinese herbs, were the most special of all. Chef Yeh created the wrappers with Eucommia 杜仲 and fillings including goji berries 枸杞, pork kidney 豬腰, and more. A piece of this healthy dumpling will bring you enormous energy and nutrition!
Guizhou "Wu Xing" Dumplings 貴州養生行運餃
5 dishes for two (with unlimited rice) - we definitely ordered way more than our stomachs could handle...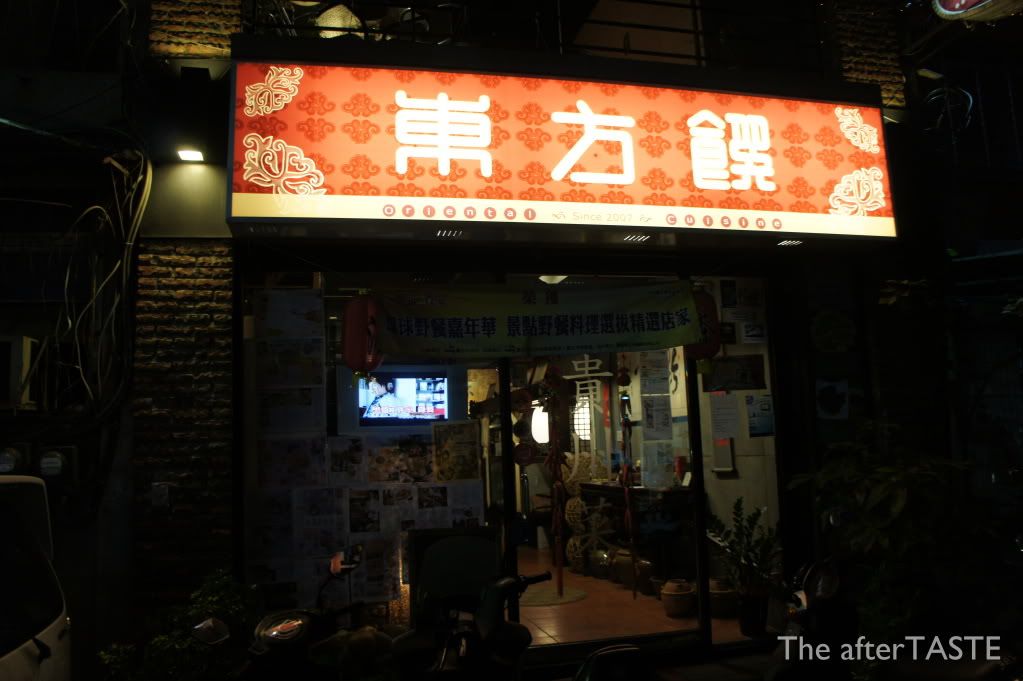 Oriental Cuisine 東方饌 黔天下