How awkward is it when your table in a restaurant is right next to your college advisor's? Even better, if he is with half of the department, including a TA from the class that you almost failed. Yeah, it happened to me last week.
I was totally shocked when I was getting seated at The Blue Room, a celebrated Mediterranean inspired restaurant in Cambridge. As awkward as it got, I managed to have a good time with my friend and tried not to peak at that corner.
The Blue Room is situated in the energetic business district in Kendall square. Dating back to 1991, the trendy and cozy restaurant has been a local favorite. Many people dine here for business as well as for a relaxing after work meal. Everyday the Portuguese executive chef creates delicate dishes from the freshest available local ingredients. You can also see him in action in the open kitchen at the back of the restaurant.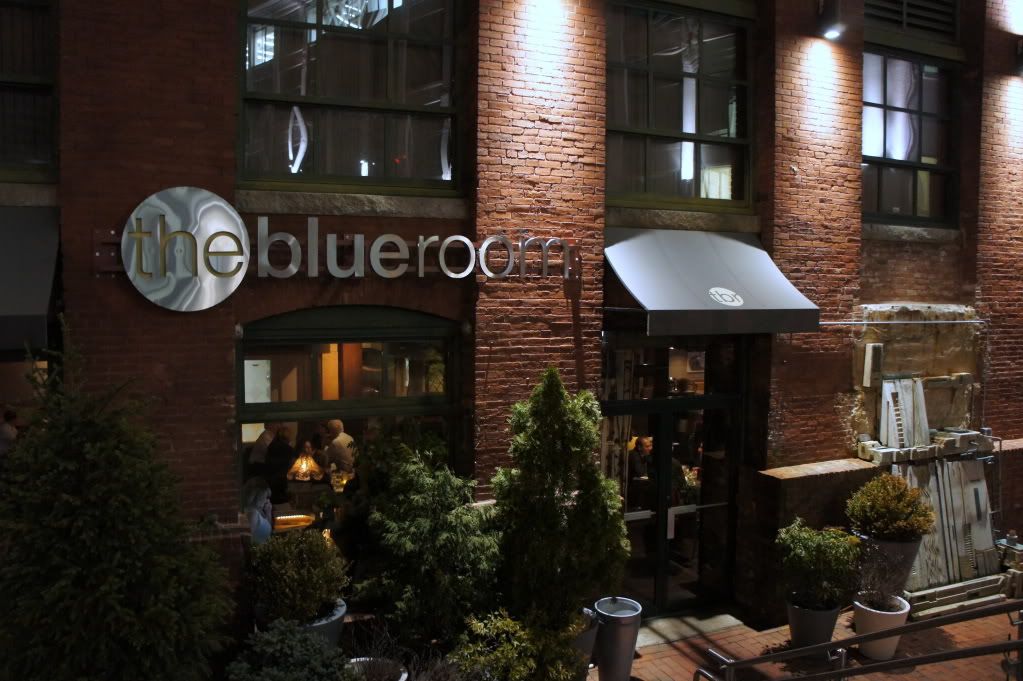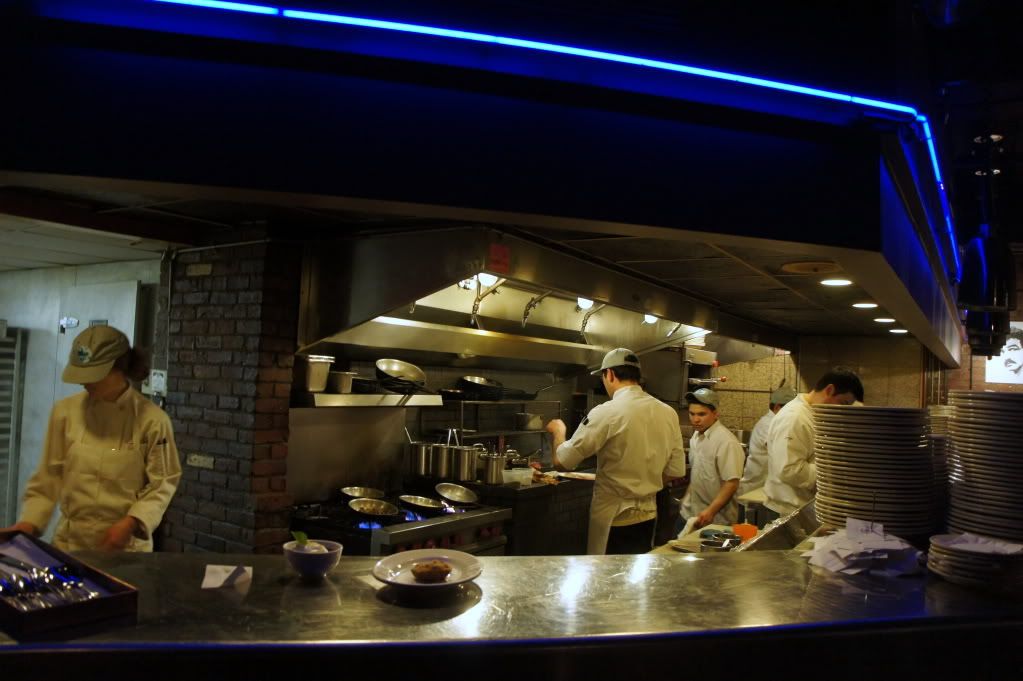 Neon Lights and the Open Kitchen
The appetizers were disappointing. Though served in beef broth, the bland pork and veal meatballs were dry and rough. And the squid came in cold, which tasted quite weird.
Pork + Veal Meatballs
beef broth, orzo
Sauteed Squid
borlotti beans, mustard greens
The hangar steak, oooh, was made to perfection. I can still remember every bite and every taste of the tender and juicy steak. Carved into generous slices, the heavenly prepared steak gave off a delightful flavor from its natural beef au jus. Both Justina and I loved it! Not to mention, the gorgonzola polenta, seasoned with exotic spices, was the perfect side dish for the steak.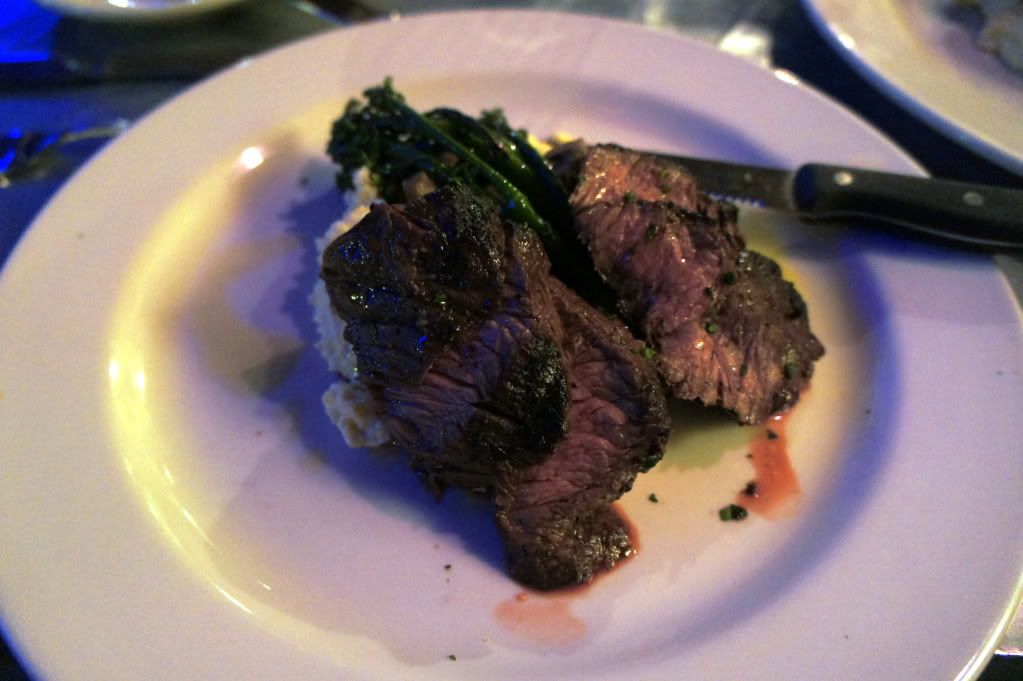 Hangar Steak
gorgonzola polenta, mushrooms, rapini
The baked apple streusel kept the apple's skin, which added to the texture of the dessert and brought a pleasant sour taste. It would have been better if it was actually hot! The chocolate campari pots de creme was topped with fresh whipped cream and a mint leaf for decoration; it was a pretty average chocolate mousse.


Baked Apple Streusel
calvados raisin anglaise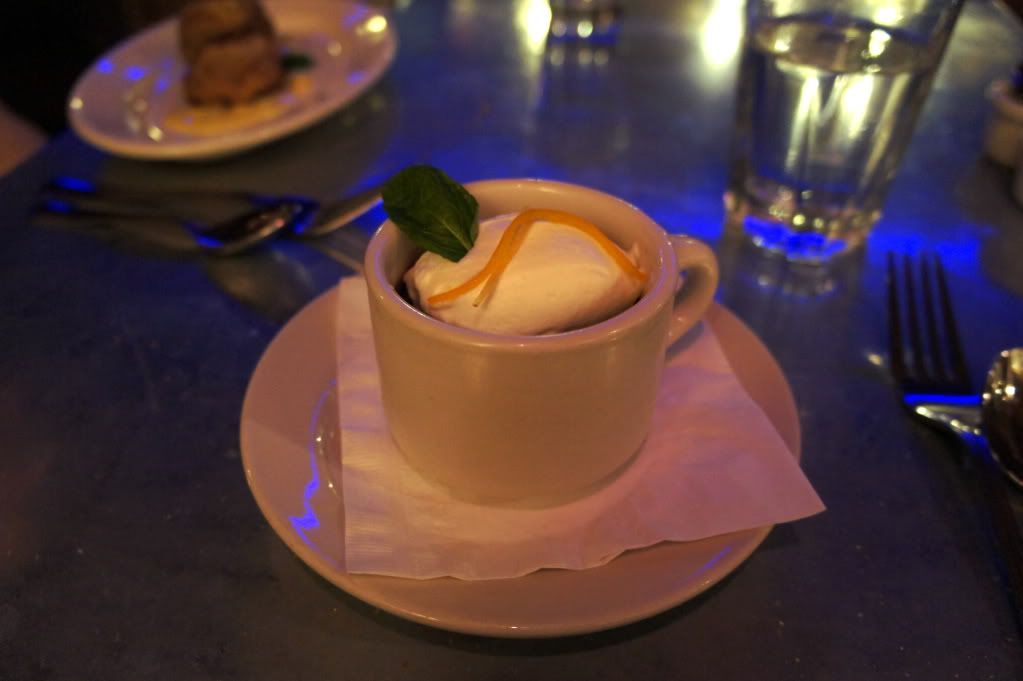 Chocolate Campari Pots de Creme

The Blue Room is very busy at night, and the place can be really cramped. Besides the somewhat disappointing appetizers, the service at the restaurant was annoyingly slow. We finished two rounds of bread before our entrees came and had to ask the waiter to bring us water. However, one thing I thought was pretty neat about The Blue Room. On their menu, they recommend a wine pairing for every dish from appetizers, main courses, to desserts. Despite all of these, I might go back again for that amazing steak...
1 Kendall Square
Cambridge, MA 02139
Fantastic main courses and good collection of wines.
The restaurant can be really packed and busy, expect the service to be really slow.